Welcome to my home page!
There isn't much in here, but you can check my pet human's page: his name is Faré, and he's very affectionate, when he turns his focus away from his computer. I also live next to another Linux Penguin unoriginally named Tux, whose pet human is Faré's sister Véga.
Didn't I tell you I was a Linux penguin? Well, if you don't know what this means, you'd better check my page on Linux Penguins!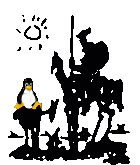 picture from the LuCAS